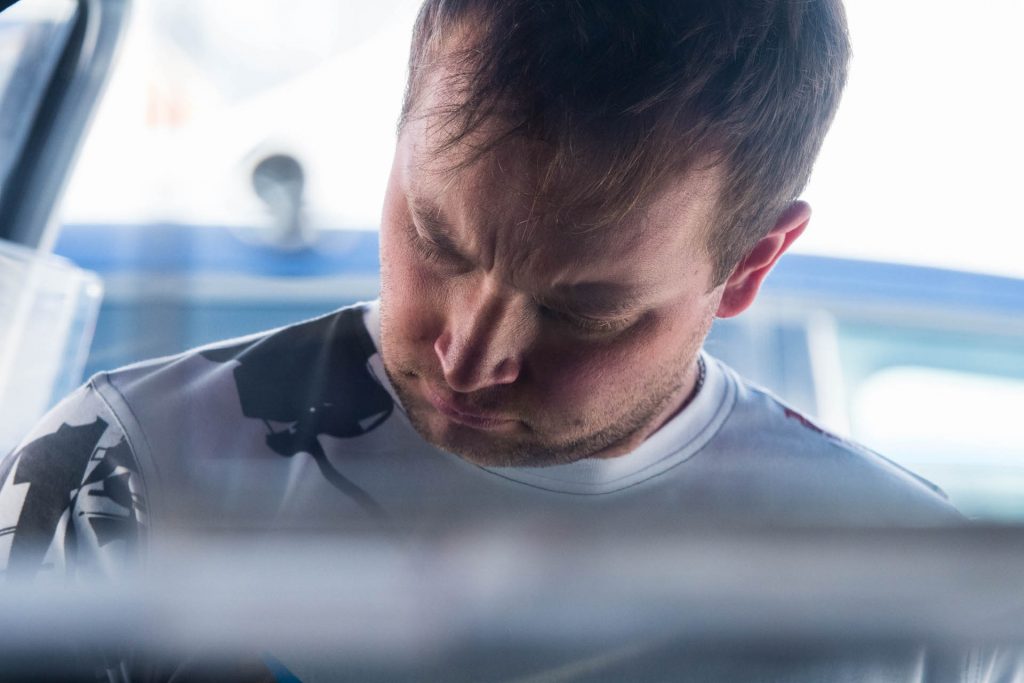 Cvrcek Jr.: "We would like to move Rexteam forward"
22nd January 2020, Turnov  / CZ
We have not heard much recently about Rexteam, a father-son rally team from a small village near Turnov called Besedice. But it looks like the beginning of a new period in 2020. Well, perhaps we should not say the team comes from Besedice any more…
So, Veroslav, what is the actual situation like?
Veroslav Cvrcek Jr.: "Rexteam has always been and will always be from Besedice, the same as our family. It is true we have moved to new spaces in Jenisovice near Turnov. We spent a lot of time and energy building this facility and that is why I missed some races in seasons 2017-2019. But it was necessary. The new spaces are from a point of view of capacity, background and conception on an absolutely different level and our team can work far more effectively now. And we have come to a moment when we want to go in for racing again."
We could see some photos of a new Skoda Fabia R5 on a profile of @rexteamcz a few days ago. Can you tell us when and with whom we will see it?
VC Jr.: "Acquiring Fabia R5 was a part of our long-term plan. We bought the car in Italy and started an overhaul immediately that it would be 100% ready for the new season. We have not decided yet who and when would drive it. Fabia R5 is offered for rent and we will see whether it will race on Czech or foreign tracks. However, if there was a chance for me to drive it by myself, I would love to do it."
I guess this Fabia would not have to be the only R5 in your team…
VC Jr.: "We have always been connected with Skoda and I cannot imagine it would ever change. We also have two special hill climb racing cars Fabia RS2000 and ex-factory Fabia S2000. I participated in Wallachia and Bohemia Rally with it last season. Anyway, it is the right time now to make our racing car fleet younger and we are going to have a Skoda Fabia R5 evo in our workshop soon. It is going to be a flagship of our team, and like above mentioned Fabia, it will be mainly offered for rent."
Moreover, Rexteam got bigger by another 'giant' last year…
We were fully focused on the season 2020 last two years. I am not talking only about a new workshop and buying of Fabia R5. There are lots of other things as well. We would like to take part in a foreign competition in the future (if not this year). That is why we bought an accompanying Scania with a huge trailer for two cars from Skoda Motorsport after Rally Sweden last year. It should ensure an appropriate image and required comfort during the races for both our team and also our customers. We are also going on with our hill climb activities, so we are expecting plenty of work which we are, however, looking forward to."
Ambitious plans place demands on every single member of the team. Who are actually the core people of Rexteam?
VC Jr.: "My father and I are the team leaders, but also my mother and my wife Lucka give everything to the team. My parents taught me to be enthusiastic about motorsport and I also learned to be precise. Luckily, our colleagues have all these characters too. The work is much easier under these circumstances. When we were really occupied with building new spaces in 2018, we were able to build a hill climb racing car Fabia RS2000 evo 2 for four months. I became an absolute Champion of Slowakia two times with that car then and also our customers won a lot of other competitions with it. In the same year, except for participation in 14 hill climb races and two rallies, we managed to overhaul an old Porsche 911 for rally marathons and took part in Balkan Classic Rally with two Porsche cars. Otherwise, we did a complete overhaul of the Porsche 911 Targa for our long-term customer. We all are fully motivated in our workshop and always want to move the thing forward."
You mentioned your start in Slovak Hill Climb Championship. It is not the most typical field for your team. How did this begin?
VC Jr.: "We have cooperated with Mr. Liptak's team for several seasons. We prepared Fabia for L Racing in 2015 which Jozef Beres Jr. won the absolute hill climb title with. I got an offer to be a driver in the season 2016 and I accepted this offer with pleasure and humbleness. I was really busy due to customer service in the first two seasons, so I did not start in all races. But we prepared the second evolution of Fabia for hill climb racing and we got the championship in the first complete season. What is more, we could regain the title clearly last year. We set up new track records in most of the tracks and we won 13 out of 15 races we participated in. Rally will always be the field number one for us but hill climb races have opened new possibilities in technical development for us. As an engineer from the Technical University of Liberec, I am really interested in technics and technical development, so we are still working on our Fabia RS2000. We analyze our own telemetrics data and evaluate settings of chassis, shock absorbers, differential gears and aerodynamics after each drive. It seems that our customers appreciate this a lot as they praise our cars and can win with them. For example Plamen Kamburov from Bulgaria. Naturally, we also analyze a driving style of our drivers who we try to help to reach as good results as possible."
As I am listening to what you managed last year I cannot believe it is not all yet. We could see you cooperating with Filip Mares in a few races. Is it right?
VC Jr.: "We have known each other since we were going to high school, we are good friends and besides, we are both enthusiastic about motorsport. Filip spends plenty of time with a rally, he thinks a lot about it and is still working on himself, so I like our cooperation. We often discuss the pacenotes, training, preparation or for example the driving style. I was his "spy" in a couple of races last year and we experienced identification drives in WRC races in England and Spain. We had also a chance to "spy" for Honza Kopecky and Honza Hlousek which was an amazing and interesting experience for us. I hope that Filip and Honza will be maximally successful in world rally competitions, they are definitely able to reach great results."